The Latest on Nitro Type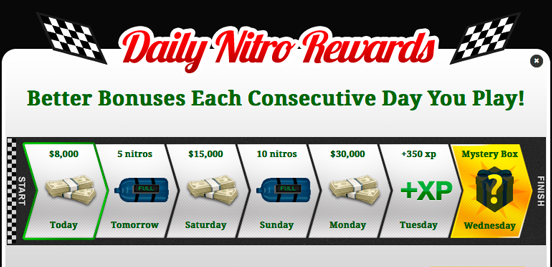 There's a new reason to check back each day... Daily Nitro Rewards!
We are proud to announce our latest feature, Daily Nitro Rewards, a killer way to earn extra money, and you don't even need to race!!! All you have to do is come back each day to earn bigger and bigger rewards. And who knows what you might get with the mystery box! We'll be adding crazy unique cars, unknown titles, and other amazing prizes. Keep in mind, you'll probably just get something normal... but maybe not??
On top of all that, there are a set of new achievements based around how many mystery boxes you've attained. Earning mystery boxes take discipline, so be sure to check back and log into Nitro Type every day!
Enjoy!